Videojet Cheshire 7000
Skymail International uses the Videojet Cheshire 7000 as part of its inkjet department. This machine and technology allows Skymail to be an industry leader. The Cheshire 7000 allows Skymail to apply bar code images on various types of media at high speeds. Bar codes that can be printed include time, date, alphanumeric characters and custom images. Speeds can be reached up to 1,388 characters per second and 4,230 bar per second. These speeds can be attained through laser marking technology. This technology reduces time the Cheshire 7000 isn't running and eliminates consumables for cost and the environment that are usually associated with ink-based printers. 
For a complete breakdown and more information about the makers of this product visit the below links. 
Speed
Advances in technology increase process speed
This inkjet printer is top of the line when it comes to advances in technology. The Cheshire keeps up with the best in the industry in terms of speed which is able to run up 100,000 media pieces in a single hour.
Technology
Advances in technology make the Cheshire 7000 an industry leader
Features include center belt with various accessories that ensure minimal skewing and slip. This allows the media types to have little to no variation while being processed. Even though the Cheshire 7000 operates at high speeds the innovative media feeder allows minimal vibration so print quality is the highest possible. This high speeds carries over when using its water-based inks which incorporates a 24-inch linger transport, high-temperature belts and a pedestal for dryer mounting.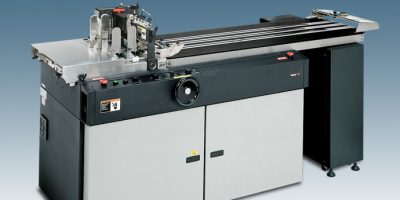 Operator Friendly
Easy to get used to all aspects of updated technology
The Cheshire 7000 creates a visible batch separation making it easier on the operators. This is achieved though the use of the Feeder Sort Control. With batches being created with minimal effort time is saved on each job.